Brightwater Recruitment Specialists Career Seminar 20th March 2019 .: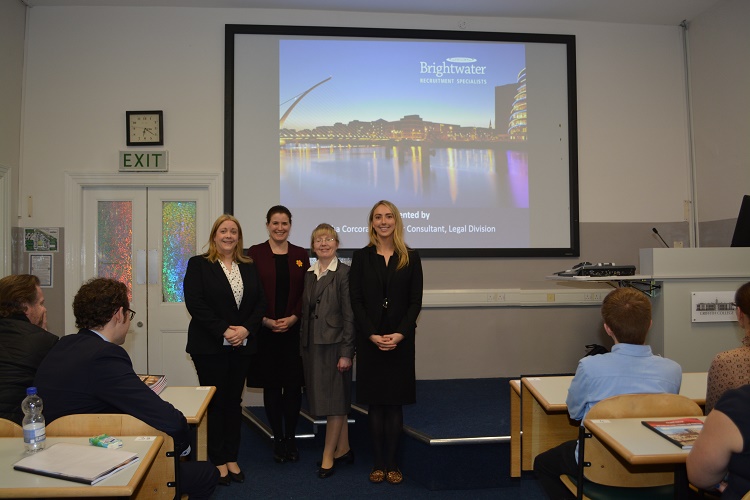 Standing left to right ;- Siobhan Mc Donald,( Secretary ) of the Irish Instirtute of Legal Executives , Eileen Moloney , Head of Marketing at Brightwater Recruitment Specialists , Mairead Dixon ( Treasurer )of the Irish Institute of Legal Executives and Sorca Corcoran Consultant Legal Division Brightwater Recruiotment Specialist
Students of the Diploma in Legal Studies and Practice also in attendance
Career Seminar on the 20th March 2019 provided by Brightwater Recruitment Specialists .
Career Seminar live and on- line for 2019 students studying for Diploma in Legal Studies at Griffith Colleges Dubliin / Cork.
Introduction
The Career Seminar look place on 20th March 2019 at Griffith College.Dublin..
Students in college were invited to attend, Mathew Judge, Lecturer from the Law Department of Griffith College was also present .
The Board members from Irish Institute of Legal Executives included Siobhain, Mc Donald, ( Secretary ), Mairead Dixon ( Treasurer ) and Ita O' Gara. ()Student Liason Officer ) .
Topics
Sorca Corcoran, Law Consultant from Brightwater Recruitment Specialists provided the students insights into the duties of Legal Executives, emphasis was highlighted on technical skills. choice of career path and how to adapt and blend skills. Salary, bonus and benefits depended on geographical location.
Benefits of Seminar
How to write a good curriculum vitae Students received a handout on guidelines.
Background knowledge on the growth area financial, commercial property and aviation.
Discussion
This was informal discussion between the students and board members. Those attending were seeking information regarding the situation at present regarding continuous professional development and the input from the Institute.
Summary
This seminar assisted those present in making informed decision on future career direction. The evening concluded with a photo call for "The Brief" namely " Official Journal of the Irish Institute of Legal Executives ( IILEX ) from Mairead and closing speech from Siobhain .