Entering the Four Courts
Officially launched at the King's Inns, Henrietta Street, Dublin 7 on Tuesday 26 November 2019.
( Permission for publication by kind courtesy of Paul & Maria Hanna , Hanna Fine Art )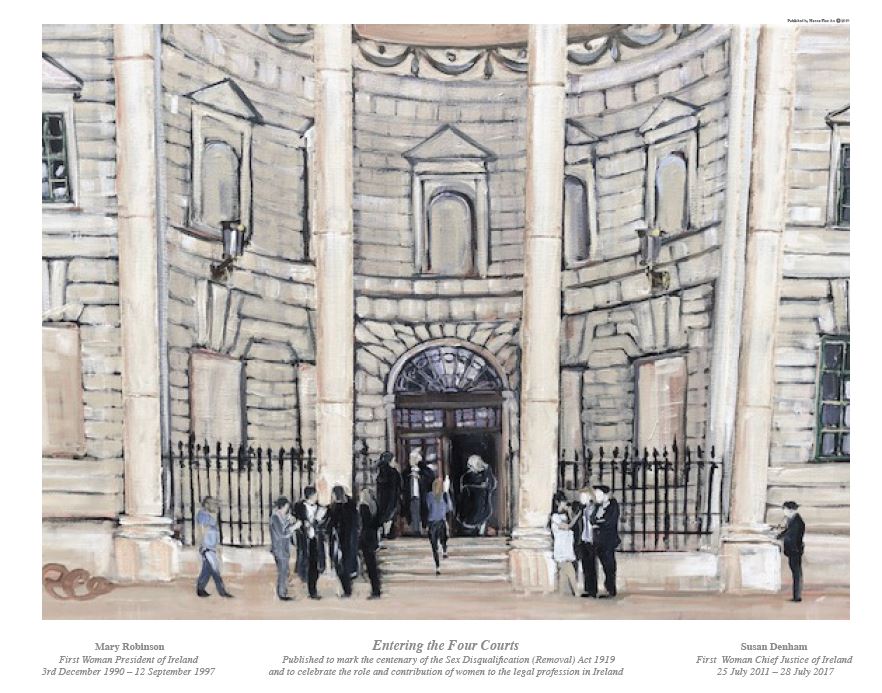 The Irish Women Lawyers Association - in association with the Bar of Ireland and Irish Legal News - is delighted to release Hanna Fine Art's print of Irish artist Stephen McClean's original oil on canvas, "Entering the Four Courts".
This print is being published in a limited edition of only 250 prints to mark the centenary of the Sex Disqualification (Removal) Act 1919 - which enabled women to become barristers, solicitors, jurors and magistrates - and to celebrate the role and contribution of women to the legal profession in Ireland over the last 100 years.
As you can see from the attached pictures, every print in the edition has been individually hand-signed by Mary Robinson, first female President of Ireland and Susan Denham, first female Chief Justice of Ireland.
The print will raise funds and awareness for Breast Cancer Awareness and the Denham Fellowship. It was formally released on 26th November 2019 at the King's Inns. Any one who would like to make further enquiries about one of these historical prints please contact Maria Hanna on 085 112 2388 or email modernirishart@btinternet.co